2019 Awards Dinner
San Antonio Aviation and Aerospace Hall of Fame 
Event Date 4 April 2019
---
Keynote Speaker
Dr. Bonnie J. Dunbar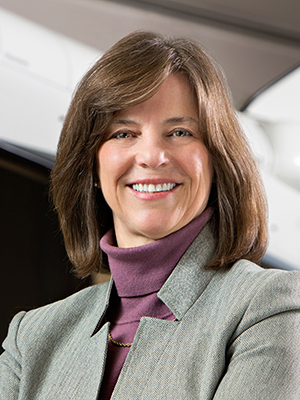 Dr. Bonnie J. Dunbar to be Keynote Speaker at San Antonio Aviation and Aerospace Hall of Fame 2019 Awards Dinner
The Dee Howard Foundation is honored to announce that Dr. Bonnie J. Dunbar will be the Keynote Speaker at the San Antonio Aviation and Aerospace Hall of Fame 2019 Awards Dinner on 4 April 2019.
Dr. Dunbar is a distinguished academic, scientist, former NASA astronaut, pilot, and educator. Dr. Dunbar is currently on the faculty of Texas A&M University-College Station where she serves as TEES Eminent Professor; Director, TEES Institute for Engineering Education and Innovation (IEEI); Director, Aerospace Human Systems Laboratory; and, among other accolades, is a Member of the National Academy of Engineering.
Dr. Dunbar graduated from Sunnyside High School, Sunnyside, Washington, in 1967; received a bachelor of science and master of science degrees in ceramic engineering from the University of Washington in 1971 and 1975, respectively, and a doctorate in Mechanical/Biomedical Engineering from the University of Houston in 1983.
Between 1971 and 1978 Dr. Dunbar worked in the private sector for Boeing Computer Services and Rockwell International Space Division and conducted research at Harwell Laboratories in Oxford, England. Dr. Dunbar joined NASA in 1978 and retired from NASA in September 2005. On her retirement NASA issued a press release which read in part:
…Astronaut Bonnie Dunbar (Ph.D.), a veteran of five space shuttle flights, retired from NASA today to become president and chief executive officer of the Museum of Flight in Seattle, Washington.

Dunbar flew on shuttle missions in 1985, 1990, 1992, 1995, and 1998, spending more than 50 days in space. She played key science roles in each mission, including the STS-61-A Spacelab, STS-50 Microgravity Lab-1, and STS-32 Long Duration Exposure Facility (LDEF) retrieval missions. Two of her missions, STS-71 and STS-89, visited the Russian space station Mir. She was selected for the astronaut class of 1980, only the second group of astronauts specifically chosen to fly the space shuttle.

In addition to astronaut assignments, Dunbar's 27-year career at NASA included serving as a flight controller and payload officer. She also held management positions at NASA Headquarters and NASA's Johnson Space Center, including five years as the assistant director for University Research at Johnson.

As one of NASA's early shuttle astronauts, Bonnie helped pave the way for women taking key roles in space exploration," said Flight Crew Operations Director Ken Bowersox. "She's done it all, from technical research to spaceflight to motivating young people about science…."
Special Honors Dr. Dunbar has received include Associate Fellow, AIAA. Elected to the National Academy of Engineers (2002). American Ceramic Society James I. Mueller Award, Cocoa Beach, Florida. (2000). Inducted into the Women in Technology International (WITI) Hall of Fame in 2000. NASA Space Flight Medals (1985, 1990, 1992, 1995, and 1998). Superior Accomplishment Award (1997). Member, National Science Foundation (NSF) Engineering Advisory Board, 1993-1999. NASA Exceptional Achievement Medal(1996). NASA Outstanding Leadership Award (1993). Fellow of American Ceramic Society (1993). Design News Engineering Achievement Award (1993). IEEE Judith Resnik Award (1993). Society of Women Engineers Resnik Challenger Medal (1993). Museum of Flight Pathfinder Award (1992). AAES National Engineering Award (1992). NASA Exceptional Service Award (1991). University of Houston Distinguished Engineering Alumna (1991). M.R.S. President's Award (1990). ACS Schwaltzwalder P.A.C.E. Award (1990). University of Washington Engineering Alumni Achievement (1989). NASA Exceptional Service Medal (1988). ACS Life Membership (1986). General Jimmy Doolittle Fellow of the Aerospace Education Foundation (1986). American Ceramic Society (ACS) Greaves-Walker Award (1985). Rockwell International Engineer of the Year in 1977.
To learn more about Dr. Dunbar we invite you to visit her Texas A&M University and NASA bios.
---
Honorees
Earl Slick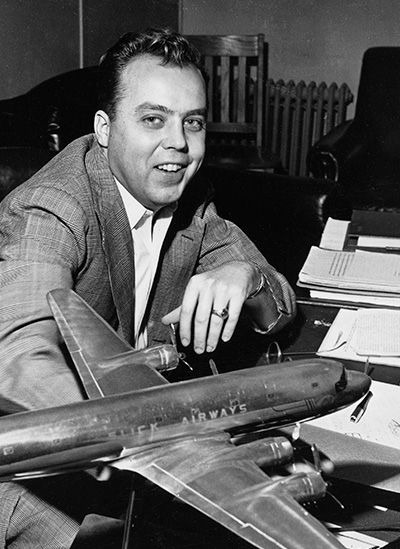 Tom Slick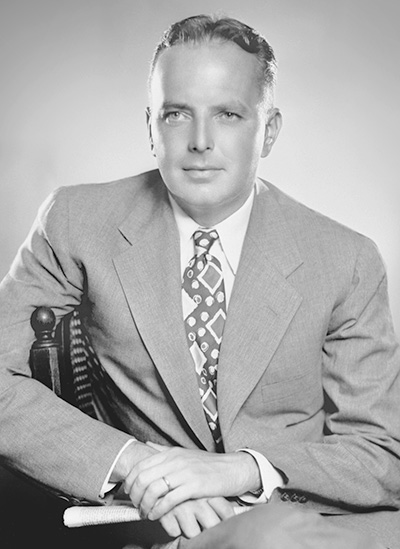 Earl & Tom Slick
In the January 28, 1946 issue, Time Magazine wrote "At San Antonio's tortilla-flat Alamo Field (the name of San Antonio International Airport when it was first open for combined military and civilian use at the end of WWII) last week, 50 men in coveralls scurried over, under, into, out of and around nine fat-bodied Curtiss Commando planes. They installed refrigeration equipment in some, heaters in others. On the silver sides of all nine, they painted the royal blue insignia of a brand-new air-freight enterprise: Slick Airways, Inc…". The idea for the airline was Earl Slick's, it was formed as the air cargo division of the Slick Corporation which was owned by Earl and brother Tom—Earl was 25 and Tom was 29 at the time. Earl ran the airline and served as President, Tom served as Vice President, and stepbrother Charles Urschel Jr. served as treasurer. By 1951 Slick Airways had become the largest all-cargo airline in the US. In April 1951 Slick Airways became the first airline to operate the freighter variant of the Douglas DC-6. The airline ceased operations in 1966.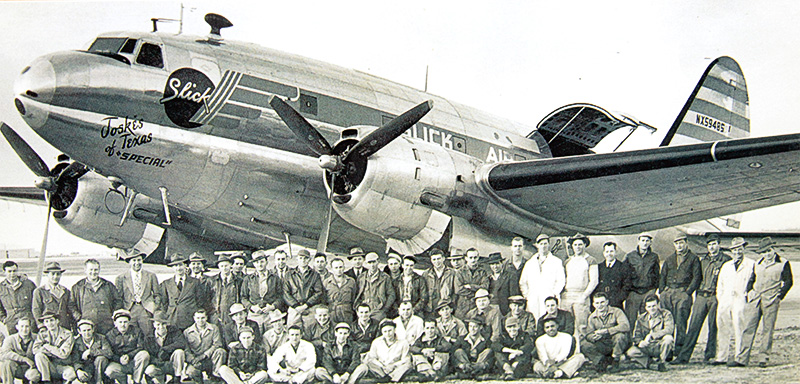 Lt. Col. Francis R. (Dick) Scobee (USAF Ret.) NASA Astronaut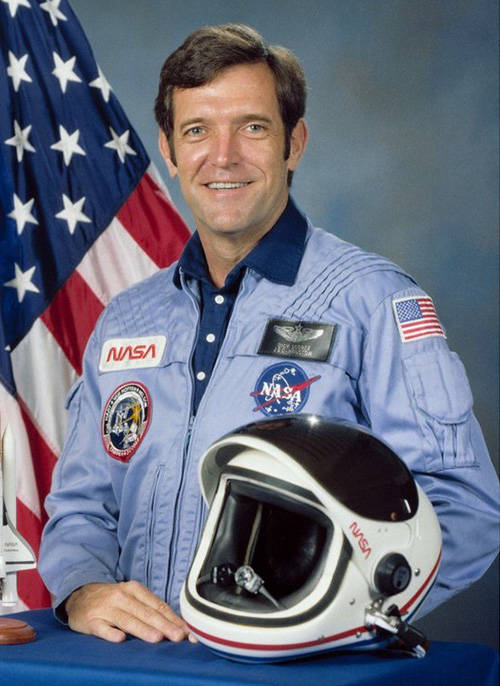 Lt. Col. Scobee was born in Cle Elum, Washington, graduated from Auburn Senior High School, in Auburn, Washington, enlisted in the United States Air Force in 1957, trained as a reciprocating engine mechanic, and was subsequently stationed at Kelly Air Force Base in San Antonio. While in San Antonio, Lt. Col. Scobee met and married Virginia June Kent of San Antonio, and while in San Antonio, started his college studies by attending San Antonio College for two years, which led to his selection for the Airman's Education and Commissioning Program. He graduated from the University of Arizona with a bachelor of science degree in Aerospace Engineering. He received his commission in 1965, and after receiving his wings in 1966, completed a number of assignments including a combat tour in Vietnam. He returned to the United States and attended the U.S. Air Force Aerospace Research Pilot School at Edwards Air Force Base, California. After graduating in 1972, he participated in test programs for which he flew such varied aircraft as the Boeing 747, the X24B, the transonic aircraft technology (TACT) F-111, and the C-5. He logged more than 6,500 hours flying time in 45 types of aircraft. Lt. Col. Scobee was selected as an astronaut candidate by NASA in 1978 and completed a 1-year training and evaluation period in August 1979. In addition to astronaut duties, Lt. Col. Scobee was an Instructor Pilot on the NASA/Boeing 747 shuttle carrier airplane. He first flew as pilot of STS 41-C which launched from Kennedy Space Center, Florida, on April 6,1984. The mission duration was 7 days before landing at Edwards Air Force Base, California on April 13,1984. Lt. Col. Scobee was spacecraft commander on STS 51-L, which launched from Kennedy Space Center, Florida, at 11:38:00 EST on January 28,1986. The crew onboard the Orbiter Challenger included the pilot, M.J. Smith (U.S. Navy), three mission specialists, Dr. R.E. McNair, Lt. Col. E.S. Onizuka (U.S.Air Force), and Dr. J.A. Resnik, as well as two civilian payload specialists, G.B. Jarvis and S.C. McAuliffe. The STS 51-L crew died on January 28, 1986 when Challenger exploded after launch. During his illustrious career, Lt. Col. Scobee was awarded many honors, among them, the Air Force Distinguished Flying Cross, the Air Medal, two NASA Exceptional Service Medals, and was posthumously awarded the Congressional Space Medal of Honor.
General Mark A. Welsh III (USAF Ret.)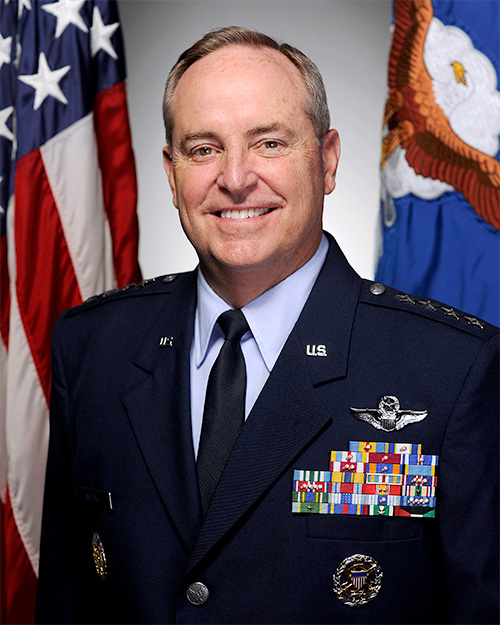 General Mark A. Welsh III was born and grew up in San Antonio, earned a Bachelor of Science Degree from the U.S. Air Force Academy and entered the Air Force in June 1976. During his Air Force career, Gen. Welsh also earned a Master of Science degree in computer resource management from Webster University, and graduated from the Army Command and General Staff College, the Air War College, and the National War College as well as completing other post graduate studies at Massachusetts Institute of Technology, Syracuse University, John Hopkins University, and Harvard University. Gen. Welsh received his undergraduate pilot training at Williams Air Force Base, Arizona. Gen. Welsh was rated as a Command Pilot and has over 3,300 flight hours in F-16, A-10, T-37 and TG-7A aircraft. During his distinguished Air Force career Gen. Welsh was assigned to numerous operational, command and staff positions including Commander of the U.S. Air Forces in Europe and Commander of NATO's Air Command, Ramstein Air Base, Germany, Associate Director of Military Affairs at the Central Intelligence Agency, and as Commandant of the United States Air Force Academy. Gen. Welsh became the 20th Chief of Staff of the Air Force in August 2012, serving as the senior uniformed Air Force officer responsible for the organization, training and equipping of 664,000 active-duty, Guard, Reserve, and civilian forces serving in the United States and overseas. As a member of the Joint Chiefs of Staff, Gen. Welsh and other service chiefs functioned as military advisers to the Secretary of Defense, National Security Council, and the President. Gen. Welsh received numerous awards and decorations, including the Defense Distinguished Service Medal with oak leaf cluster, Distinguished Service Medal with oak leaf cluster, Defense Superior Service Medal with oak leaf cluster, the Legion of Merit with oak leaf cluster, and the Distinguished Flying Cross with oak leaf cluster. In June 2016 Gen. Welsh retired from the Air Force and on August 15, 2016, Gen.Welsh became and currently serves as Dean and Holder of the Edward & Howard Kruse Endowed Chair, and Executive Professor of The Bush School of Government & Public Service at Texas A&M University.
---
Program Brochure
To view the Hall of Fame event history we invite you to visit these past annual event pages.
---