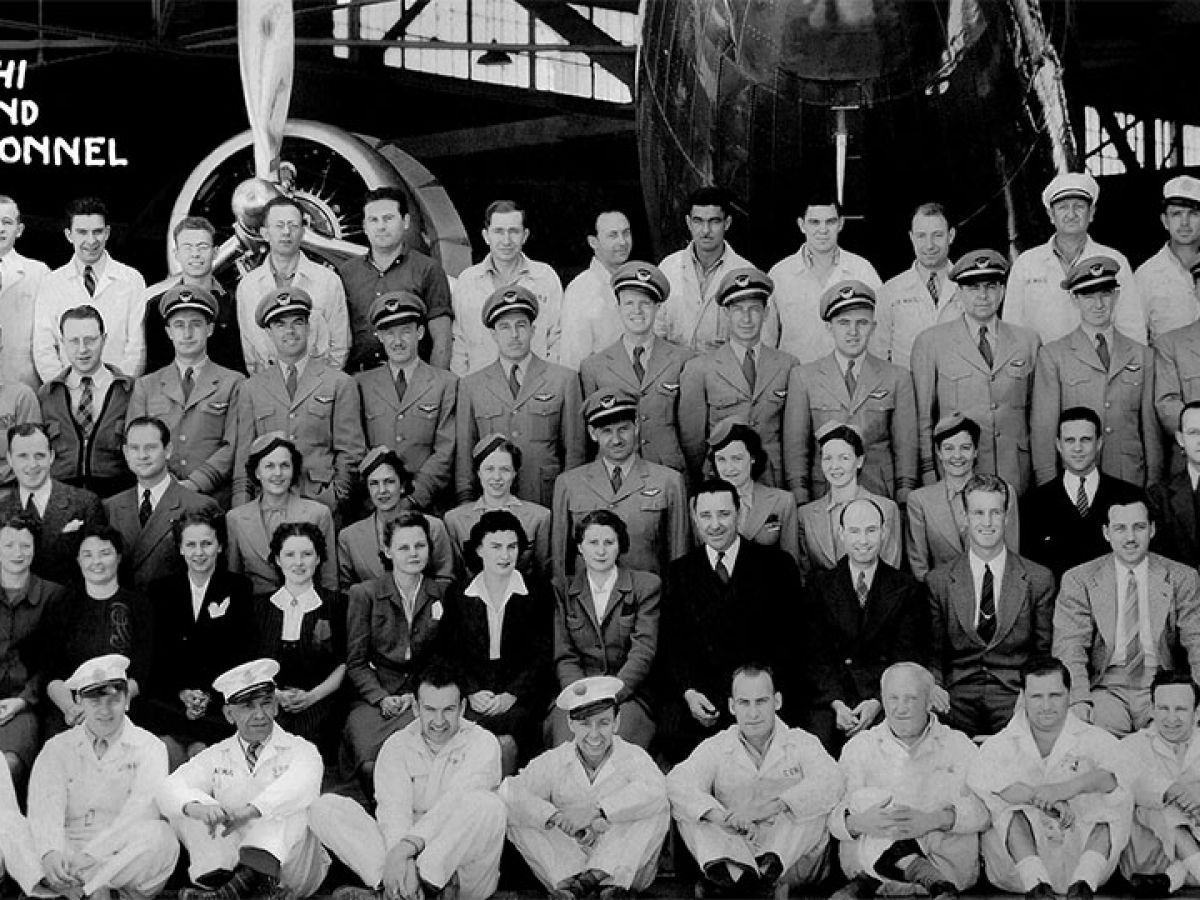 Howard Aero Beginnings
It was the early recovery years after the Great Depression when aviation legend Dee Howard first started working at age fifteen in automobile related shops. Within a few years, Dee was able to find a job in his chosen field working on aircraft when he became an apprentice for Braniff Airways. Dee later moved to California to work for Western Airlines (the photo above is of twenty year old Dee Howard standing in the back row, white coveralls, under the nose of the aircraft).
While working for Western Airlines in Burbank, CA he became a CAB licensed aircraft mechanic (the CAB was a predecessor to the current Federal Aviation Administration [FAA]). and then returned to San Antonio to rejoin Braniff Airways.
During World War II Dee was inducted into the Army Air Corp, however due to a critical shortage of airline mechanics he was placed on enlisted reserve status and told to return to his job as a mechanic at Braniff Airways. When possible Dee worked the night shift at Braniff so he could work during the day performing maintenance on private aircraft which provided him the funds to take flying lessons and become a licensed civilian pilot.

With the war over in 1946, Dee left Braniff and joined the newly formed Slick Airways (founded in January 1946 by Earl F. Slick), one of the first post-war all cargo airlines and one of the first tenants on the newly opened San Antonio Municipal Airport (later to be known as San Antonio International Airport). While working for Slick Airways Dee towed the first airplane into the first hangar at San Antonio Municipal Airport. Shortly after Dee joined Slick Airways he became part of management and was given responsibility for conducting the modification program to convert the military C46 cargo aircraft for commercial use, working for the first time with engineers to obtain CAB/FAA certification of the military aircraft.
While working for Slick Airways Dee towed the first airplane into the first hangar at San Antonio Municipal Airport.
With the successful completion of the airline project, engineering (both aviation and automotive) became Dee's primary focus for the remainder of his career.
In 1947 Slick Airways decided to move its operations to California, Dee did not want to transfer to California because his family ties were now firmly rooted in San Antonio. At the age of twenty-seven, with a wife and two young children, Dee resigned his secure position with Slick Airways and founded his first company, Howard Aero, Inc.
Starting with a small one-room building on the ramp at San Antonio Municipal Airport, Dee soon hired his first employee Ed Swearingen, and later hired Bill Lear, Jr. Howard Aero grew rapidly and became one of the most successful aircraft maintenance and modification companies of the post-World War II era. When Dee celebrated his 40th birthday in 1960, Howard Aero had over 1000 employees.
Howard Aero's first major program was to extensively modify and remanufacture the Lockheed Ventura medium bomber into a high performance long range business aircraft that became the Howard Super Ventura. The highly successful Super Ventura was followed by the Howard 250, the Howard 350, and the Howard 500 models.
The Howard 500 received an FAA Type Certificate (TC) as an all new pressurized aircraft. The Super Ventura and the Howard 500 were produced on an assembly line in the same manner that new aircraft are manufactured. An impressive number of various other Howard Modified Lockheed Aircraft were produced and flew with an enviable safety record.
In 1964 Dee left Howard Aero and started The Dee Howard Co. (DHC).
Related Posts
---
"Aerospace engineering is an area of rapid growth and tremendous importance to both governmental and private industry sectors."